2018-02-23
Chairman Zvizdić with Parliamentarian Delegation of Azerbaijan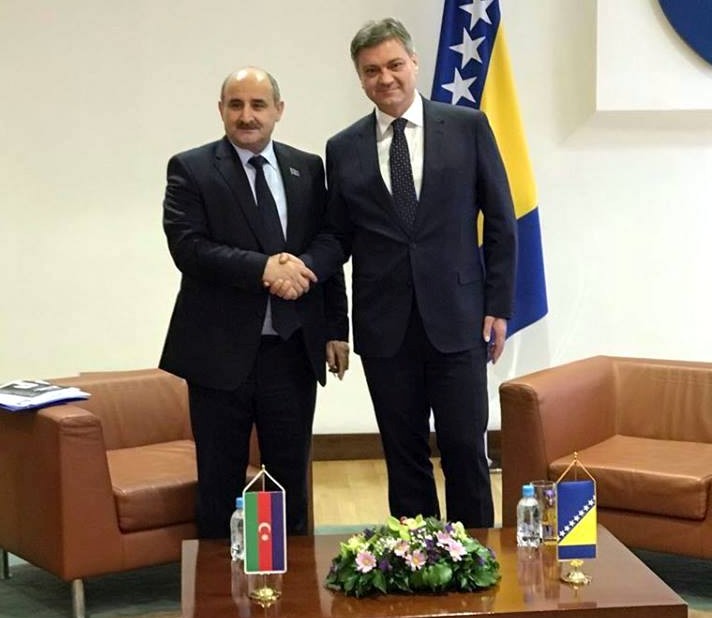 Chairman of the Council of Ministers of BIH Dr Denis Zvizdić received a delegation of the Parliament of the Republic of Azerbaijan, led by MP and President of the Friendship Group of Azerbaijan and BIH Chingiz Ganizade.
Chairman Zvizdić said the relations between the two countries are good and in a constant promotion. He informed the visitors of the current economic and political development in BIH, saying that Bosnia and Herzegovina has two major foreign policy priorities, European and Euro-Atlantic integrations He stressed that BIH made, over the last three years, considerable steps forward at achieving socio-economic progress of the society, and invited businessmen from Azerbaijan to continue investing to BIH, emphasising that authorities in our country are ready and open for promotion of economic, political and diplomatic cooperation.
Chairman Zvizdić and the delegation of the Azerbaijani Parliament agreed about a large space for negotiations and cooperation at all levels, and that these should be more often to contribute to better understanding and promotion of the relations between BIH and Azerbaijan.
The meeting was attended by Elsar Hasanov, Ambassador of the republic of Azerbaijan in BIH, Elnur Guliyev, counsellor with the Diplomatic Mission of Azerbaijan in BIH, and Elshad Eyvazli, writer and author of the "Children Who Did Not Grow up" book.