2017-10-26
Vice Chairman of the Friendship Group for Central and Eastern Europe Predrag Kozul met with the Head of the Diplomatic Mission of the Republic of Azerbaijan in Bosnia and Herzegovina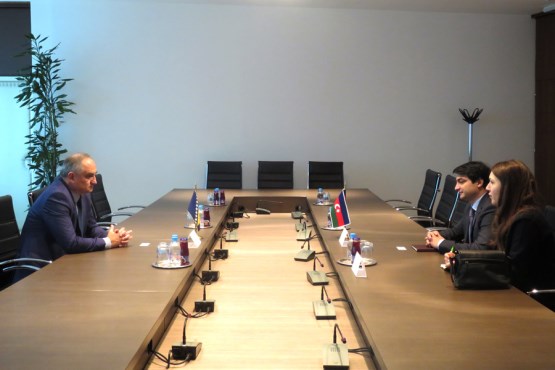 Predrag Kozul, Vice Chairman of the Friendship Group for Central and Eastern Europe met today with Elnur Guliyev, the Head of the Diplomatic Mission of the Republic of Azerbaijan in Bosnia and Herzegovina. The main topic of discussion was the improvement of the parliamentary relations. Stressing the importance of these contacts the interlocutors agreed that the members of the parliaments of the two countries should intensify the cooperation that so far has not been at a satisfactory level. In order to achieve this, they discussed the upcoming contacts and the possibility for meetings of the parliamentary friendship groups.
They highly assessed the political relations of Bosnia and Herzegovina and Azerbaijan and emphasized the importance of economic cooperation and foreign trade exchange between the two countries. According to Mr. Guliyev, Azerbaijan is interested in strengthening economic ties and investments in Bosnia and Herzegovina's economy. However, the aggravating circumstance is the lack of any agreement on investment protection or economic cooperation, and on this occasion he expressed hope that the way will be paved for Azerbaijani companies in the coming period.
Predrag Kozul, the Vice Chairman of the Friendship Group for Central and Eastern Europe pointed out that this is one more reason for the sooner meeting of parliamentarians, as the achieved contacts at parliamentary level may help contribute to the thriving relations of the two countries.