2018-02-27
Statement by H.E. Mr. Elmar Mammadyarov Minister of Foreign Affairs of the Republic of Azerbaijan at the 37th Session of the UN Human Rights Council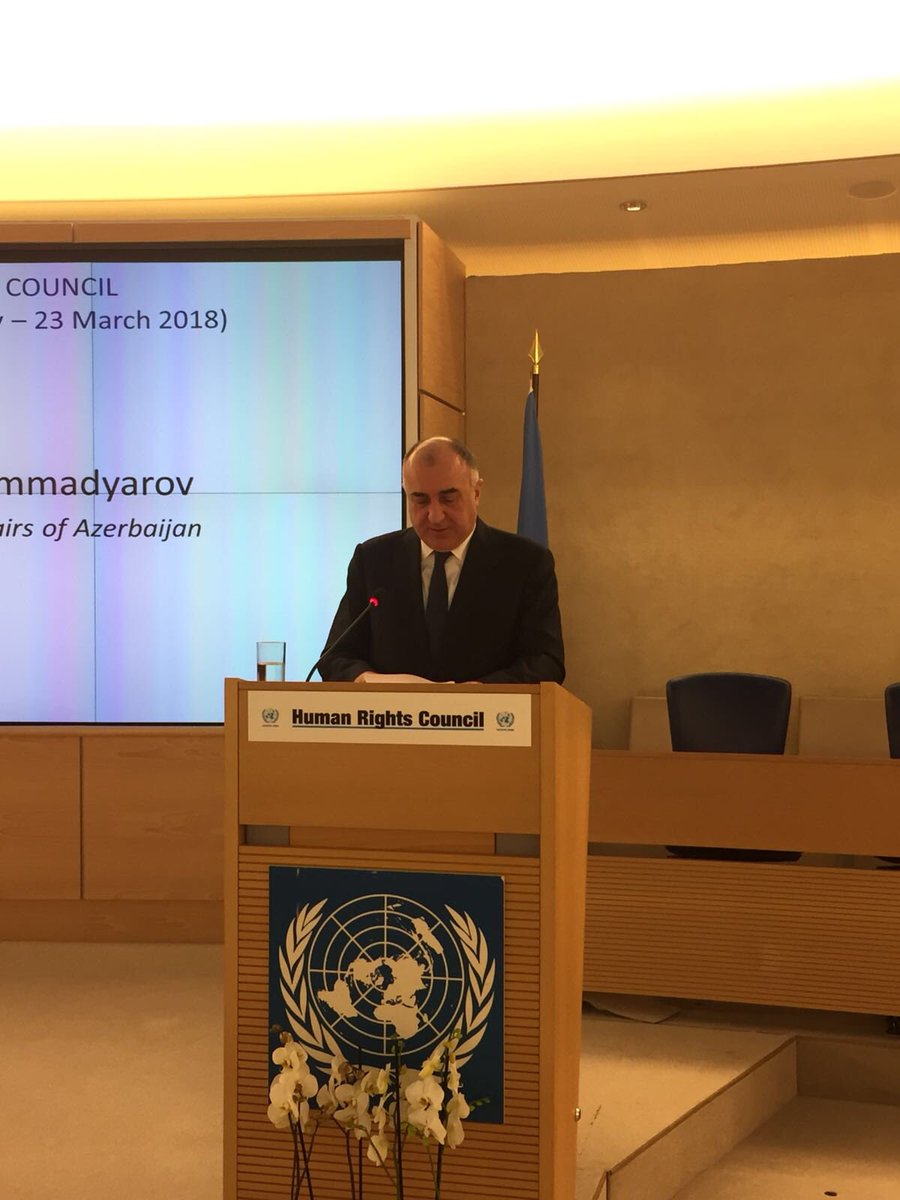 Geneva, 27 February 2018

Mr. President,

Excellencies,

Ladies and gentlemen,

At the outset, I would like to congratulate Ambassador Vojislav Šuc for his appointment as the President of the Human Rights Council.

Strengthening democracy and protecting human rights are among top priorities of the Republic of Azerbaijan. The Government implements large-scale programs to create necessary conditions for all the citizens of Azerbaijan to fully enjoy all human rights and fundamental freedoms.

Education is a top priority in our domestic policy, because a well-established educated society is one of the guarantees of successful and sustainable development. Right to health is fully ensured in the country. Every year more than 5 million people – half of the country's population – have their medical check-ups totally financed from the state budget. Azerbaijan has been the first country in the Muslim world granting women right to vote as early as in 1918. Azerbaijan strives to ensure gender equality and empower women in public and social life. To give an example, 52% of staff members of my Ministry are women. Since we live in a digital age, it is worth noting that currently about 80 percent of population of Azerbaijan have unimpeded access to internet, which has become the most favored and practical vehicle for information, media communication and free flow of ideas and thoughts.

Criminal justice system has also been reformed to be in full compliance with international human rights standards. One of the recent developments in this field was the Executive Order of the President of Azerbaijan of 2017 aiming at furtherance of legal reforms in penal field and humanization of penal policies.

Azerbaijan is one of the world's recognized centers of multiculturalism. All ethnic and religious groups live in Azerbaijan in peace and harmony. Azerbaijan had hosted numerous international events aiming at strengthening intercultural dialogue. Being a member of both the Organization of Islamic Cooperation and the Council of Europe, Azerbaijan launched the "Baku Process" in 2008, the main goal of which is to strengthen dialogue, partnership and cooperation between the Muslim world and Europe.

Azerbaijan attaches high importance to the right to development. I would like to confirm once again my country's adherence to the principles enshrined in the Declaration on the Right to Development. Azerbaijan is actively participating in international development efforts, particularly through the Heydar Aliyev Foundation and the Azerbaijani International Development Agency.

Mr. President,

We recognize that human rights and sustainable development are complementary and mutually reinforcing. The 2030 Sustainable Development Agenda recognizes the need to build peaceful, just and inclusive societies that are based on respect for human rights, rule of law and good governance and effective public institutions. Proceeding from this, Azerbaijan together with Georgia, Kenya, Thailand and Turkey has submitted a draft resolution entitled "Promoting human rights and SDGs through transparent, accountable and efficient public service delivery" for adoption at the current session of the Council. Using this opportunity, I call on the HRC members to support the resolution.

Mr. President,

Azerbaijan fully supports the necessity of the advancement of the Human Rights Council activities. In order for the Council to strengthen its' credible and responsive global human rights body rather than a platform for naming and shaming, the key notions guiding its activities should be "dialogue", "cooperation" and "assistance".

Azerbaijan has issued a standing invitation to all special procedure mandate holders. We recognize their important role in promoting human rights through cooperation and dialogue with the Member States. Azerbaijan also attaches importance to the Universal Periodic Review and has submitted its mid-term report in 2016. Our third UPR report will be considered in May 2018.

We are committed to engage with UN human rights treaty bodies. Last year Azerbaijan was named by the High Commissioner for Human Rights as one of the 33 Member States that have been fully up to date in their treaty body reporting.

Mr. President, but speaking about human rights violations around the globe I have to stress that the most notorious one is towards my country.

As a result of armed aggression by Armenia 20 percent of the territory of Azerbaijan has been under occupation since more than a quarter of a century. Over 1 million Azerbaijanis were subjected to ethnic cleansing and have been forced to leave their homes to become refugees and IDPs in their own country. Today Azerbaijan with a population of 10 million hosts - in per capita terms - one of the highest numbers of refugees and IDPs in the world – 1.2 million.

Armenia continues the occupation of Azerbaijani territories by disregarding the relevant resolutions of the UN Security Council and related documents of other international organizations, which reaffirm the territorial integrity of Azerbaijan and demand immediate, complete and unconditional withdrawal of Armenian armed forces from the occupied territories.

Yesterday - 26 February 2018 - marked the 26th anniversary of Khojaly Genocide committed by Armenia, as a result of which 613 residents of this small town in the Nagorno- Karabakh region of Azerbaijan were killed, including 106 women, 63 children and 70 elderly. The consequences of this genocide committed in 1992 made it clear that the intentional mass killings in Khojaly were not isolated or sporadic acts, but were part of Armenia's systematic policy of ethnic cleansing commenced since 1988. Regretfully, those responsible for such grave offences still enjoy impunity and have not yet been brought to justice.

Encouraged by silence of international community towards the crimes against humanity committed in Azerbaijan, Armenia continues to violate the basic human rights of Azerbaijani IDPs and refugees. Therefore, we urge the UN Human Rights Council, its mandate holders and the UN High Commissioner for Human Rights to finally ensure effective remedy for the violated human rights of Azerbaijani refugees and IDPs as tasked by the relevant UN Security Council and General Assembly resolutions. The continued large-scale human rights violations have been steadily undermining the trust of the people of Azerbaijan in the primacy of international law and the efficiency of the UN human rights machinery.

Thank you, Mr. President.